Our Approach 
Welcome to the physiotherapy component of North Shore Chiropractic. Here our approach to treatment really focuses on how to keep you pain-free and moving well in the long term. The key to this lies in thoroughly assessing and understanding how your body is currently moving and how your muscles are activating. Here we can hone in on any dysfunctions underlying your pain or that may have you at risk of a similar injury further down the track.
Additionally, we want to know what goals you have moving forward and then help you reach them. Whether the goal is to be able to raise your arm overhead to hang out the washing or to be selected for a representative team in your sport of choice we can tailor our approach to help you reach this.
Initial Expectations
During your first consult, we want to provide you with a definitive diagnosis of your injury and get you out of the pain caused by it. To achieve this, our favourite hands-on techniques include soft tissue release, joint mobilisation, active-release techniques and trigger point therapy. We also have a range of electrotherapy modalities to take advantage of. If your needs are relating to rehabilitation post-surgery or sports injury, we will provide you with a comprehensive program outlining the treatments and exercises to be used at each stage of the process and also what goals we want to achieve at each of these stages.
Moving Forward
After addressing the initial pain, we will provide you with the needed tools to start taking control of the dysfunction that has caused the injury and prevent it from occurring again. These tools will come in the form of specific stretches, self-massage techniques, activation exercises, strength exercises and/or neural gliding techniques. With these at your disposal you can feel in control and confident in your body's ability to improve and function well.
We look forward to meeting you and assisting you in achieving your body's potential.
Click here to book an appointment with Rhys.
Rhys Ameerbeg
Rhys is a Physiotherapist and the newest member to join the North Shore Chiropractic Team.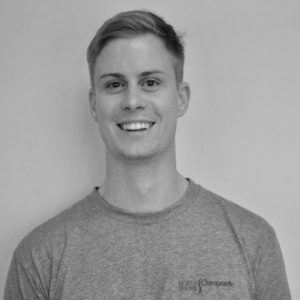 His motivation for working in this field stems from his basic desire to see people improve their quality of life through a reduction or elimination of their pain. He is also passionate about improving function and performance in day to day activities as well as on the sports field. He graduated from the University of Sydney with a Bachelor's degree in Health Science and a Masters in Physiotherapy with his background being in sports injury and rehabilitation.
He has an interest in everything sports-related and has competed at the NSW state basketball level making him familiar with the needs of those pursuing the path of an athlete.
Outside of the clinic you'll find him trying to play guitar.